Minna's World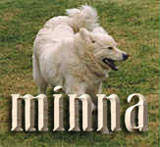 What can I say about Minna's World? Other than it is the (very out of date and old) web site dedicated to the cutest, fluffiest dog on the planet. And if you think yours is bouncier, prettier, or more lovely, then you are seriously misguided and should seek help immediately.
If I was in need of more padding because of layout issues, I might go on to say it includes pictures of my dog in various typical poses, who is incidentally a prize winning animal, having taken first place in the "Most Appealing Eyes" category against some tough competition a few years ago.
Since this is essentially a site all of its own, you might want to visit it directly in future if what is on the site you're reading proves uninteresting for you.
I'll be moving the content from Minna's World over here soon.
Until then feel free to browse her really old site at the following URL:
Comments
Add Your Own Comment